OBDSTAR X200 PRO2 is an intelligent maintenance device based on Android 5.1.1 operating system, covers most of car models till 2020 on the market,multifunction includes:Oil Reset / TPS / EPB / ABS bleed / Battery match / Steering Angle reset / DPF / OBDII / Gear learning / CVT learning value reset / Oil Nozzle code / SUS reset etc.
OBDSTAR X200 PRO2 Features
1. More compact: 5-inch high-definition touch screen, moderate size, easy to operate
2. More stable: comprehensive upgrade of software and hardware, equipped with Android operating system
3. More convenient: one-click upgrade, self-update, with upgrade prompt function
Vehicle coverage
Maintenance function supports most of the models on the market;
Mercedes-Benz, BMW, Porsche, Volvo, Land Rover, Jaguar, Renault, Peugeot, Citroen, DS, Maserati, Aston Martin, Volkswagen, Audi, Skoda, fully support up to 2020 models.
America: Chrysler, Dodge, Ford, GM Jeep, Lincoln, Mercury
Asia: Acura, Daewoo, Honda, Hyundai, Infiniti, Isuzu, Kia, Lexus, Mazda, Mitsubishi, Nissan, Proton, Scion, Subaru, Suzuki, Toyota
China: Brilliance, BAIC, BORGWARD, BJHYUNDAI, BYD, CHANGAN, CHANGHE, CHERY, COWIN, GEELY, Great Wall, JAC, JETOUR, JMC, Leopard, LIFAN, LUXGEN, LYNKCO, Maxus, MG, QOROS, ROEWE, SENIA, TRAUM, ZOTYE
Europe: Abarth, Alfa Romeo, Aston Martin, Audi, Bentley, Benz, BMW, Bugatti, Citroen, Dacia, Ferrari, Fiat, Jaguar, Lamborghini, Lancia, Land Rover, Maserati, Mini, Opel, Peugeot, Porsche, Renault, Rolls-Royce, Rover, Saab, Seat, Skoda, Smart, Vauxhall, Volvo, VW
OBDSTAR X200 PRO2 VS X200 PRO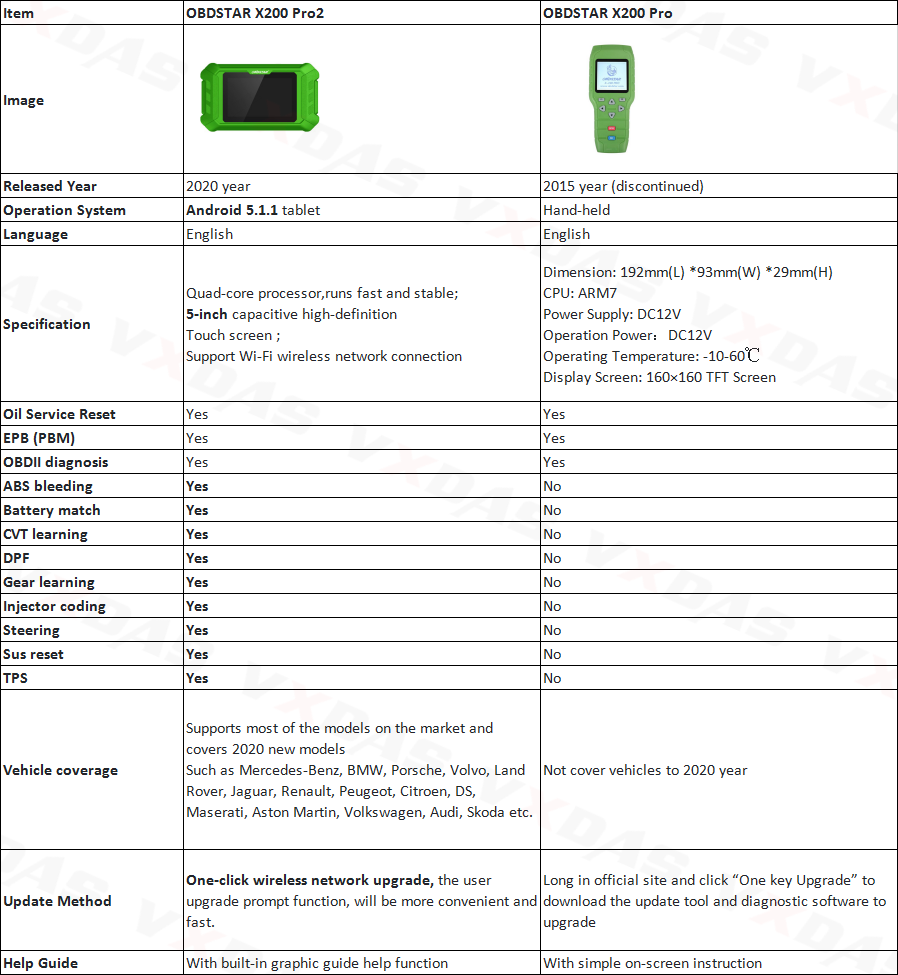 feel free to pm me if you are interested
vxdas.com supply auto repair tool, software and service!