PETKA 8.3
This is the 1st Release of this VW/SEAT/SKODA/AUDI/PORSCHE/TRUCKS+BUS Electronic Parts Catalogue,
which you can use on every Windows 7/8/10/11 32Bit/64Bit native or virtual System.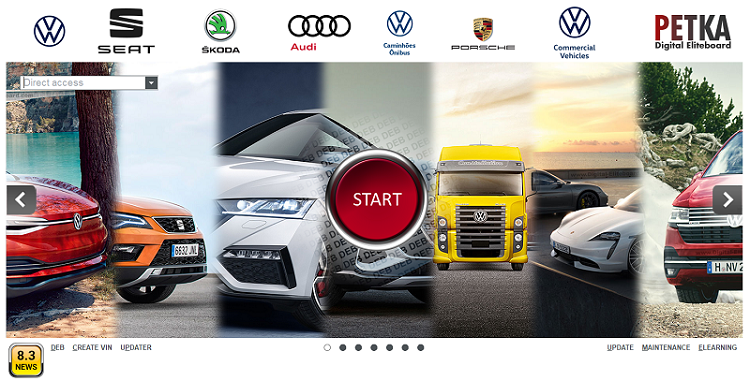 Hoster:
MEGA
Size packed: 25,8 GB
---
Database:

Volkswagen: 1405
Seat: 931
Skoda: 937
Audi: 1405
Trucks/Bus: 1404
Porsche: 617
Commercial Vehicles: 1405
---
Pricedata:

German price data are installed by default, but they can be changed in the Online Price Updater.
Volkswagen: 241
Seat: 241
Skoda: 241
Audi: 241
Trucks/Bus: ---
Porsche: 218
Commercial Vehicles: 241
---
What are the special features of this PETKA version?
integrated VIN creator (directly accessible from PETKA)
integrated online database updater (directly accessible from PETKA)
installed updates are permanently valid and do not expire anymore
integrated Online Price Updater (directly accessible from PETKA)
in the Online Price Updater also the set country can be changed
local and online based preview images of spare parts
online based 3D view of spare parts
connector information (TKR) as image/video/PDF
allows selective installation of single brands and packages (no need to install the complete setup)
no hardlock or HWID binding - just install and get started!

---
Credits:
jäger25
XTR3M3
Invisibly
---
Note:
Some program data might be detected as false-positive by a few antivirus programs or windows defender.
This is simply because it is obfuscated (similar to crypted) to make it harder to steal the (source)code.
---
To keep the links alive, the archives are password protected!  
After you give REPUTATION +1 and THANKS to this post

YOU

can ask for the archive password by

SENDING ME

a pm.
---
Update v2.0 can be found in the Update_v2.0.txt attachment!
New features:
Import of database updates and price updates available
VIN search can be switched between brands
VIN synonym search for Porsche available
Font and font size can be changed in PETKA
Possibility to switch between online/offline mode (TKR, TNR)

Deactivation of the VIN search for each brand separately possible


User defined TNR pictures can be added



Included hotfixes:
missing DLL's when starting PETKA
no display of TNR pictures / TKR files
no activation of 3D view possible
corrupt price updates of some countries
no ElsaWin connection
incorrect labeling in some languages

cyrillic font print error


incorrect update number in info about PETKA